Most of us have secretly wished that we had straight teeth at one point or another, right? Ideally, that perfect movie star smile would do just fine! There's no shame in wanting to have straight teeth. In fact, having straight teeth can make us feel and look better which in turn can positively affect our overall confidence and well-being.
Now more easily than ever before, advancements in modern orthodontic treatments can help all of us, adults and teens alike, pursue corrective treatment to improve our oral health and physical appearance. Invisalign® is a treatment that can correct any teeth misalignments to deliver that great smile we all crave so much, without the embarrassment that sometimes accompanies wearing traditional braces.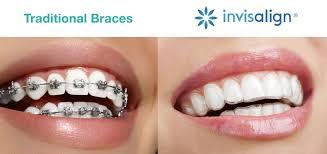 With Invisalign®'s clear aligners, braces are now virtually invisible-you are left with a lovely smile and the confidence that your teeth have been set straight. Invisalign® uses clear aligners developed from computer-generated images and impressions taken from your mouth by your dentist to change the position of your teeth. While traditional braces use fixed wires to "pull" the teeth into alignment, Invisalign® aligns the teeth by using a series of moulds that within months force your teeth into a new and improved position.
Invisalign® is the top choice for orthodontists around the globe and for a good reason- it is suitable for almost anyone wanting to improve their smile or arrange their teeth in a more orderly fashion. With the Invisalign® process there's less fuss than traditional braces, more flexibility, shorter treatment times and easier use.
Invisalign® can help correct most misalignments in your teeth while the use of clear aligners to allows you to achieve a glowing smile and improved dental health without feeling self-conscious. Adult and teens alike, can now take control over their own health and pursue correctional dental work with a flexible alignment procedure.
To get a professional opinion on the suitability of the Invisalign treatment for you or a family member, book an appointment online 24/7 at www.smaltoclinic.com or simply give our friendly reception team a call at 22 112 112.